Pass Germany TUV Rheinland Certification
2015-06-10
Jiangnan Cable Charging Pile Cable Passes Germany TUV Rheinland Certification
Sources from TUV Rheinland (Shanghai) Co., Ltd. said that Jiangnan Cable (or the Company for short)'s electric vehicle (EV) charging pile cable successfully passed Germany TUV Rheinland Certification Center's accreditation.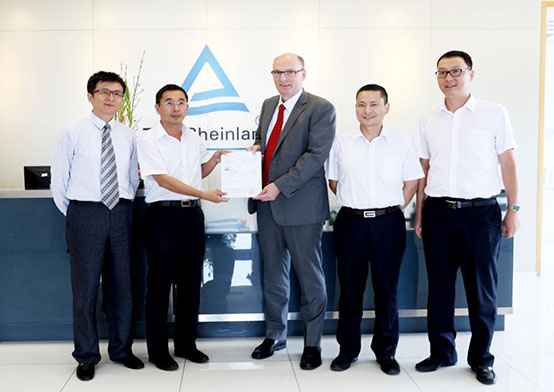 On June 1, Chief Engineer of Jiangnan Cable Ma Zhuang, on behalf of the Company, arrived at TUV Rheinland (Shanghai) Co., Ltd. for exchange. At the meeting, CEO of TUV Rheinland Lutz Frankholz first gave an account of TUV Rheinland's basic information and served fields, etc., and then granted Jiangnan Cable the TUV authentication certificate for the Company's EV charging pile cable. Success in obtaining this certificate will be of much significance for Jiangnan Cable to expand its market at home and abroad.



Germany TUV Rheinland is one of the world's largest product and quality authentication institutions, and it provides professional product certification services, with served fields including automobile, railway, aviation, mechanical engineering, information technology, bank, finance, and health service, etc. It is learned that TUV is a safety certification mark that is customized by Germany TUV for elements and components, and it has been widely accepted in Germany and Europe. Should a product pass the certification, Germany TUV will recommend this product to rectifier manufacturers which enquire about qualified element and component suppliers. During the complete machine certification, all elements and components with TUV mark may be free from inspection.
In August last year, Jiangnan Cable, in response to China new-energy vehicle industry's fast-growing demands, defined EV charging pile cable as a new product development project, and completed the sample preparation and testing work, etc. Presently, most EV elements and components like charging device adopt Germany TUV product certification. Due to this, while selecting ancillary charging cables, EV equipment factories and charging device factories all require that their products shall pass TUV product certification. Nowadays, EV is regarded as the development tendency for the next-generation car. In the EV sector, charging pile is the most indispensible part. With local governments' increasing investment in construction of charging facilities, the charging pile cable market is bound to greet a phase of explosive growth.
As one of the few enterprises with EV charging pile cable's TUV authentication certificate in China, the Company will undoubtedly seize preemptive opportunities in the new-energy vehicle market, and gain more strengths for advancement of its technology R & D project.